The bar is high when it comes to meeting customers' expectations in a call center.
According to the Global Customer Experience Benchmarking Report, more than 50% of organizations believe that personalization will improve their customer experience (CX). Along with personalization, today's customers expect fast resolutions 24/7.
These standards might feel like a lot, but don't worry — you and your call center team can meet them with the right technology. With the help of these five call center tools, your organization will be set to provide timely, tailored solutions for your customers around the clock.
1. Zendesk
Zendesk is one of the leading application CRM tools out there, and for good reason! The platform centralizes all of your customer data and provides reporting and analytics to uncover insights — helping you improve agent productivity.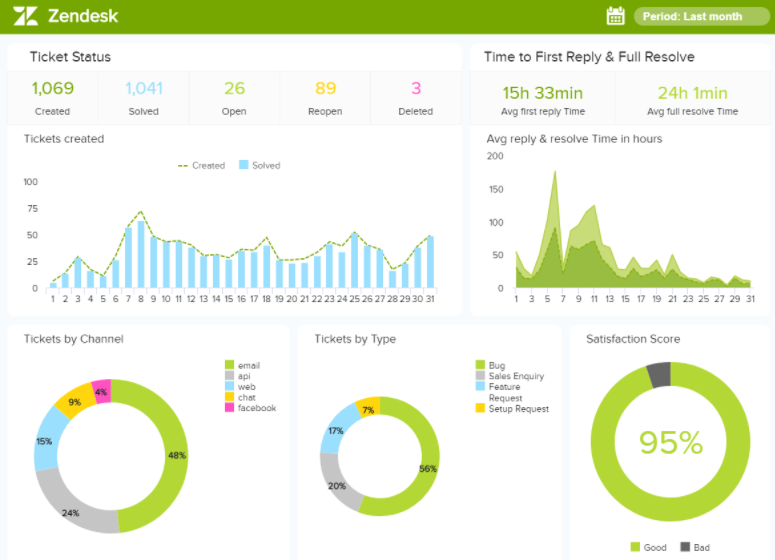 For example, Zendesk Predictive Analytics is a feature that allows your agents to use historical customer data and machine learning to predict what customers will do in the future. It allows your team to put out realistic projections for close dates on your deals based on performance patterns, so your team can get a better idea of how to allocate their time.
One of Zendesk's biggest benefits? It's an omnichannel helpdesk solution — meaning you can serve customers on multiple devices and channels, all from your Zendesk platform. Agents can also see all of a customer's interactions across channels on their profile, so they have the context they need to provide relevant support (instead of repeating themselves). Twenty percent of buyers said they switched B2B sellers due to a lack of integration between sales channels, so omnichannel functionality is a big deal.
2. Five9
Five9 is a cloud-based contact software company that helps businesses stay in touch with their customers via phone, email, and on various platforms, such as Microsoft Teams, Zoom, Salesforce, Oracle, and Zendesk.
The tool uses artificial intelligence, like utilizing customer data to build profiles, to solve everyday call center challenges.
With the use of cloud-based technology and Google Contact Center technology, Five9 creates summary algorithms for their customer calls, so patterns can be recognized. Predictive analytics allows superior customer experience features, such as:
When a customer calls in, an agent can be coached live on what to say and do.
Newly trained agents will then have the best chance of making a sale because they'll have assistance from more experienced agents.
Your agents will have up-to-date information on what's happening during customer calls, empowering them to always have the correct information for your customers.
"Faster agents with good data helps us be more efficient and make better choices. Five9 Agent Assist helps reduce the call handle time while keeping the call information consistent and accurate." - Lucy Sung, COO at TruConnect
Because of these innovations in their Agent Assisted technology, Five9 received the Brandon Hall Group Excellence in Technology Award in 2021.
3. Salesforce
Salesforce is a leading cloud-based software CRM. It's the backbone of customer service in a hub-and-spoke model due to its ability to track all sales activities, such as managing your contacts, leads, opportunities, customers, and call records. Plus, it arms your agents with marketing data and social insights.
With Salesforce managing all of your sales-related activities, you have more time to focus on making your sales. There's no need to keep your contacts up to date or find new leads. With Salesforce's customer insights, you can get new leads through their marketing data and social insights.
According to Finances Online, a review company for businesses, Salesforce has a satisfaction score of 97%. It's adaptable and integrates with many different platforms and software, so it's easy to pull customer information into Salesforce.
If you'd like to get the most out of Salesforce, we suggest pairing it with Cohere, which we cover in tool number five.
Making customers happy is hard. Let's make it easier.
See how Cohere can help your CX and sales teams engage with customers faster and more effectively.
4. Intercom
Intercom is a customer communications platform that focuses on messaging. Businesses can add Intercom's Messenger tool to their website or their product app. Agents can use Messenger to chat with customers in real-time, or they can set expected response times. Brands can also use chatbots on Messenger to provide 24/7 support.
The tool helps companies communicate with customers more quickly. Intercom customers saw they were able to handle 1.6 times more tickets when they made the switch to Messenger.
"...Before I started with Intercom I had no insight into how my customers were using my Saas, I was flying blind. I can now easily contact my users in many ways and keep track of how often they login, which features they use and how they interact with the system"- Cam Langsford of New Zealand via Trustpilot
Intercom users can also create customer profiles based on their interactions. Track customers' past questions, their site activity, and how they use your product. With this profile information, agents can better assist customers. For example, agents might note the most frequent customer issues on calls and create a FAQ page with those inquiries.
5. Cohere
Cohere is a co-browsing platform that empowers brands to assist customers with screen sharing, screen drawing, mouse takeovers, and more. With these features, it's like you're sitting right next to your customers.
You're able to work through problems visually instead of just explaining ideas over the phone or video, so issue resolution happens more quickly. Cohere has helped their customers cut support resolution times by 41%.
Cohere even allows you to see which customers are currently on your site, so you can drop in and help them right away if they're stuck. Personalize your customer experience by seeing who your customers are, so you better understand your audience, and customize your customer interactions to suit your target demographic.
"[Cohere] helps us onboard customers, keep people on track, and guide conversations that previously were much more difficult. It's a great tool to help individuals who may not have a strong sense of how to work with software by letting us guide, teach and troubleshoot at the same time."- Saydie Blanchet, operations manager at Podium, on the topic of Cohere
Beyond helping customers, Cohere also lets you help your own call center team. Record co-browsing sessions, so agents can watch the videos to learn the best tactics for helping customers.
Cohere Integrates with All of Your Favorite Call Center Tools
Cohere is compatible with every single one of the tools on this list! If your agent has a customer call in via Intercom, Cohere will allow your agent to get a direct link to your user's primary active session in the sidebar of the Intercom Inbox. Your agents can then view what your customers are doing, plus chat with them at the same time. They can also use Cohere information to build out customer profiles on Zendesk. The list of integrations goes on, including Ring Central, Aircall, or Microsoft Teams!
Cohere helps you help your customers. It's fast and easy to set up — try it out for free or get a demo!