Thinking of implementing chatbots? Looking for more information on enterprise chatbots and how to use them in your organization?
Did you know that 24% of enterprises worldwide use chatbots? Chatbots help them reduce customer service agents' workload, automate customer service processes, and even save them money. 
Read this article to learn more about what enterprise chatbots are, how they work, how to use them, and what best practices to follow.
What Are Chatbots and How Do They Work
In simplest terms, a chatbot is a software application that allows interaction between humans and technology. 
You can use chatbots to automate and optimize several enterprise tasks like introducing a customer about a product, answering their questions, getting customers on board, and much more.
Chatbots use predefined conversation flows, natural language processing (NLP), or machine learning to understand and reply to a customer's request.
When a customer enters text in the chatbox, the chatbot interprets and processes the words and phrases written by a user and gives them a pre-set answer.
If a customer asks a chatbot a question, it will answer them depending on the knowledge base available to it at that point in time.
Apart from answering customer queries, a chatbot can also help customers complete specific tasks. John can initiate a return of a product, track his shipment, and buy a product via chatbot.
How's An Enterprise Chatbot Different From A Normal Chatbot?
There are two major types of chatbots in the industry - Rule-based and AI and machine learning-based.
Rule-based chatbots work on a set of rules whereas AI and machine learning-based chatbots use sets of data and leverage machine learning to learn and understand your customers better.
In a rule-based chatbot, the conversation paths are defined and built into the chatbot. The underlying tech won't necessarily be artificial intelligence or machine learning. 
Knowing your target audience is the most important thing when using a rule-based chatbot. 
Rule-based chatbots limit your customers to a defined set of alternatives. This means they won't be typing their answers but instead choosing based on the options you give them. 
Your customers will almost never hit a wall when conversing with the chatbot because it uses a decision tree that almost always works. 
You can use rule-based chatbots if most of your users are mobile-based (as typing on mobile is cumbersome) and you want the conversation to flow in the direction of the goal defined by you. 
A major advantage of a rule-based chatbot is you can build it and get it running in a few days without any help from a developer. 
AI chatbots provide chatbot conversation by using sets of data. 
These chatbots optimize themselves with time. Meaning that as these chatbots gather more and more data, they learn from it and implement them while talking to a customer. 
This gives a great CX, which is why most enterprises prefer AI chatbots nowadays. 
The chatbot understands behavior patterns and identifies if the customer is happy, sad, or angry, whereas a rule-based chatbot isn't capable of identifying such things.
Lastly, when it comes to the efficiency of answering a query, AI chatbots are better than rule-based chatbots. The only downside to these types of chatbots is the time to build them.
For an enterprise, AI and ML-based chatbots are the right choice because they learn from customer behavior and data over time. This means, as you scale, your customer service keeps getting better. You can't achieve this with a rule-based chatbot.
Benefits of Using Enterprise Chatbots
#1. Increases customer engagement
Getting a customer is one thing, but keeping them engaged is the real challenge. Customer engagement is the process of building a long-term relationship with a customer.
You should be able to engage your customers in a way that they're obliged to return and buy from you repeatedly.
Research conducted by Salesforce revealed that 83% of customers now expect to engage with a brand immediately after landing on their website.
The best way to engage your customers is via a chatbot.
With a conversational AI chatbot, you can analyze the past user data of every customer and personalize their conversation to make it interesting.
These chatbots give customers quick and relevant answers - the two metrics you need to keep the customers engaged.
#2. Reduces customer service costs
Hiring a customer care agent to just answer customer queries will cost you a fortune.
According to Glassdoor, the average salary of a customer service rep in the US is ~$33,000 per year.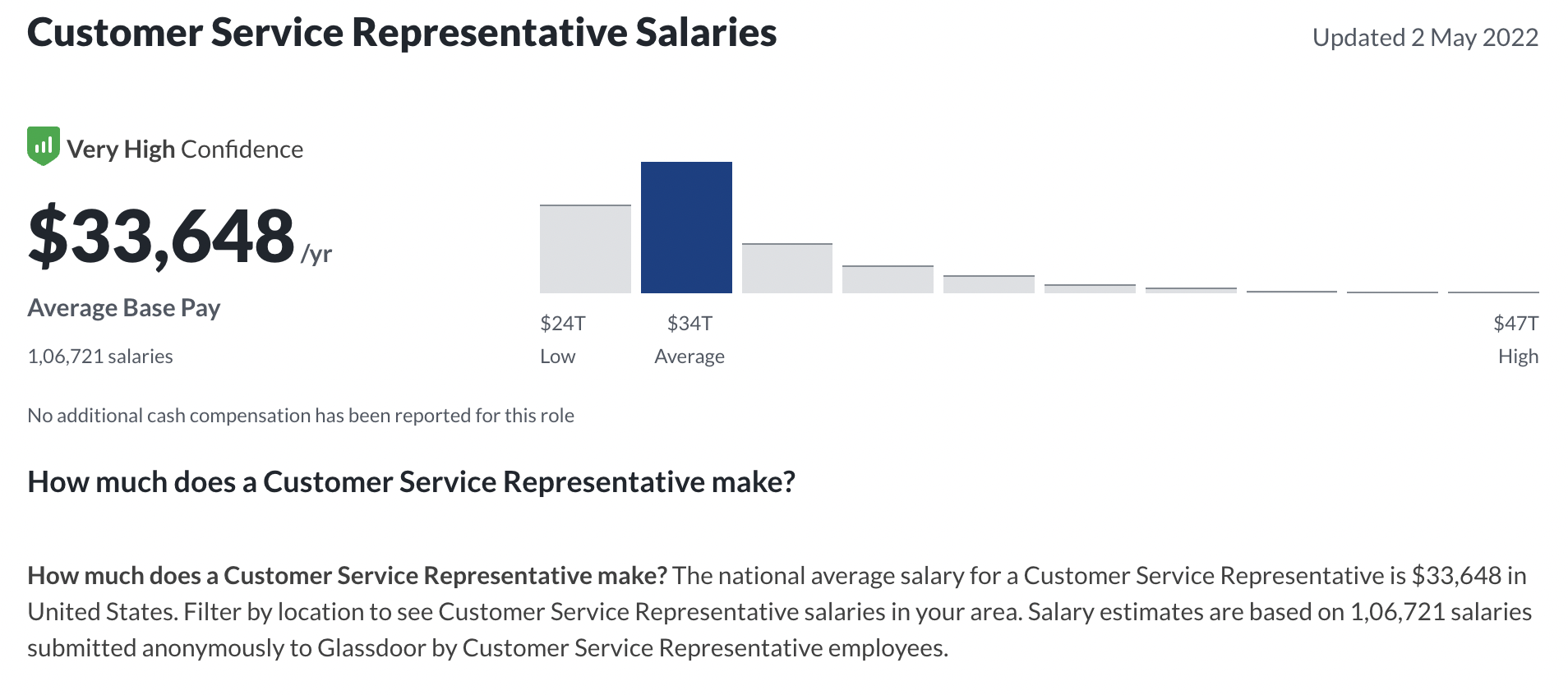 But when you invest in any enterprise chatbot, you can save up to 30% of your money that would go into customer service. 
Apart from this, you'd also save a lot of time and money on training and infrastructure.
#3. Helps achieve customer support scalability
According to HubSpot's customer service expectations survey, 68% of customers prefer paying more if they get good customer service. 
Do you realize how important is it to scale your customer service the right way?
No matter what you sell, customers will always contact your brand for help. 
Building a team of customer service reps and scaling is possible, but do you think that will be feasible for any startup or even a medium-sized enterprise? Of course not!
The best way to scale your customer support is by using enterprise chatbots. These chatbots can manage thousands of conversations and answer every question a customer asks immediately. 
Whether it's a holiday or a busy day at your store, you can scale your customer support via conversational AI chatbot and easily handle the traffic surge.
#4. Streamlines customer onboarding
When prospects land on your website's homepage, they'd like to be spoon-fed. They'd prefer if you guide them rather than find information about your brand themselves. 
This is where chatbots come into the picture. Look how HubSpot's chatbot - HubBot guides a visitor and shows them what they can do on HubSpot.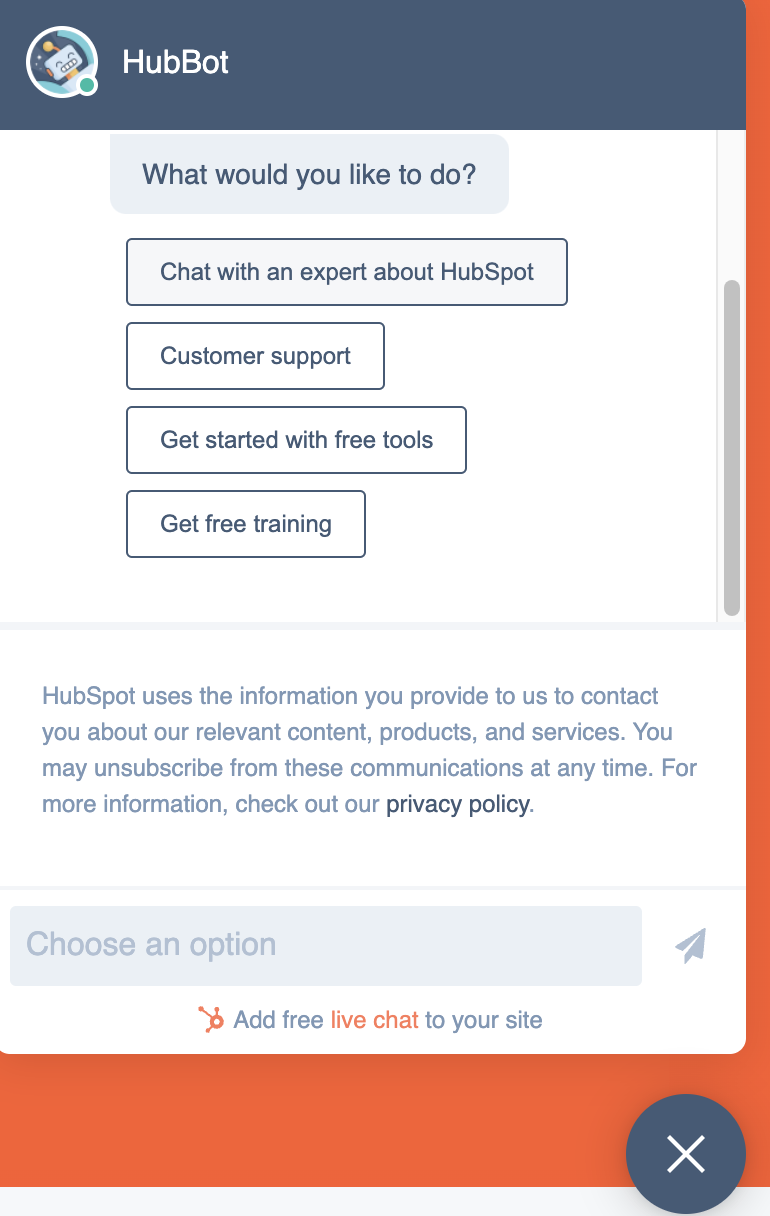 You can also program your chatbot to ask a series of questions and guide the customer accordingly.
#5. 24/7 availability
Unlike customer service representatives, chatbots don't take lunch breaks or leave their seats. They will be active all the time on your website and answer every customer instantly. This helps you kick things off with a new customer immediately, make them feel like insiders, and save them time.
4 Major Use Cases of Enterprise Chatbots
#1. Automate customer service and get new visitors onboard
In today's era, the customer service department is as important as the tech department of your enterprise. 
No matter your niche, one bad customer experience can bring the whole brand down. 
According to Zendesk, about 50% of customers worldwide say they would switch to a new brand after just one bad experience. 
Chatbots can help you set up a customer care department that does an epic job at answering all the questions your customers have.
Deploying a custom chatbot on your website helps increase engagement and boost operational efficiency. 
Website chatbots guide new customers, solve any of their queries, and try getting them on board without any hassle.
Some things that a new visitor might want to know are:
Specifications about the product/service you provide

Billing and pricing information

Order tracking and shipping time (if you deal in physical products)

Brand story, vision, and mission statement
#2. Automate your sales and lead generation
You can use enterprise bots to help convert a visitor into a lead.
Once the chatbot knows that the visitor might be a potential buyer, it sends their contact information to a sales rep who contacts the visitor to know more about their interest in the product.
Here are some things a chatbot would help you with when you use it for sales and lead generation:
Audience Segmentation:

Know your visitors' likes and dislikes and segment them based on their response

Qualify Leads:

Chatbots show visitors a sales questionnaire and identify the visitors interested in buying your product

Lead Nurturing:

With chatbots, you can keep your leads engaged at every stage of their buying cycle, thus increasing conversions

Booking Appointments:

Helps your customers book a sales call or any other appointment in just minutes
#3. Collect customer feedback
Customer feedback is hard to get, but it's the most important thing to understand what problems your customers face.
Out of 26 unhappy customers, only one might give you feedback; the rest will churn. Chatbots are essential to increase the number of feedback, as they help increase engagement.
You can use chatbots to collect feedback by conducting NPS surveys. 
But don't just ask for feedback as soon as they buy from you. Give them some time to use the product, build a conversation, and then ask them for feedback.
#4. Use chatbots for gamification
One thing that customers love even more than epic customer service is getting discounts.
Giving customers discounts via Polls, quizzes, and giveaways could get you a lot of traction. Your quizzes can go viral, and you might get a lot of sales.
But to do so, your gamification should be highly-visible and easy to participate in. But don't just let visitors play for free, get their email id at least.
Chatbots can help you with it because:
Place a chatbot at the bottom of every page on your website and make them highly visible

You can embed a micro-form in the live chat that asks for the visitor's name and email id
If you can double down on your investment or afford to take some hit on your profits, discounts can get you a lot of revenue and traction. 
If your product's great, discounts will help you build a long-term reputation in the market.
Best Practices to Follow When Using Enterprise Chatbots
Integrate chatbot with your support team
An enterprise chatbot should be user-friendly and must have a no-code interface. To do so, opt for a conversational AI platform. But why do you need such a bot? 
That's because this allows your company's best customer service resources - your customer service staff to integrate with the chatbot. 
They can take ownership, understand its working, and help in the maintenance of the chatbot. 
Moreover, they can use their experience as customer service agents to train the chatbot. This will give your customers the best-automated customer experience.
Track the right KPIs
Tracking your chatbot KPIs might depend on what use case you use it for. 
But there are some KPIs that will stay common for every use case, these are:
Pro tip: Ask your customer service staff what kind of inquiries they got the most and least before the bot was set up. This will give you a good indication of where the chatbot will be most effective.
#Bonus: Pitfalls to avoid when using an enterprise chatbot
To build and embed a chatbot on your website, setting benchmarks and building a roadmap is important. Without a proper plan, you won't have a clear understanding of the benchmarks you need to hit over time.
Here are two tips that will help you avoid any pitfalls when planning for an enterprise chatbot installment:
Build a detailed roadmap of what are your expectations from the chatbot in the coming 2 years

Identify and define potential risks that you might face while building an enterprise chatbot
Even the best and well-planned projects face difficulties and have hiccups in between. Be open to the fact and find a counter to these problems in advance.
How Cohere Answers Can Help Your Enterprise Automate Customer Service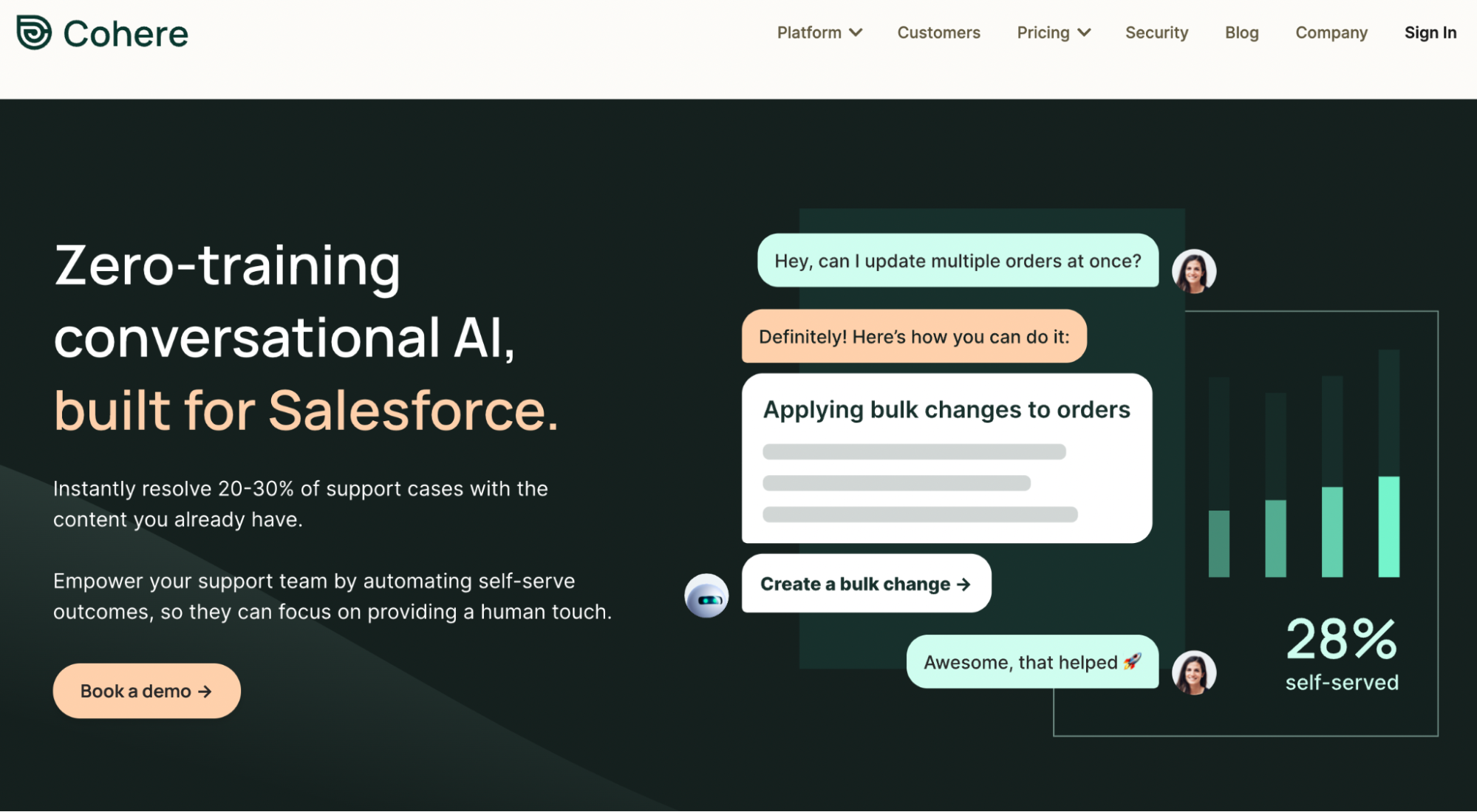 Answers (disclaimer - this is our tool) is a zero-training conversational AI chatbot platform that integrates with Salesforce to resolve all customer queries.
As soon as you integrate it with your website, the chatbot resolves 20-30% of customer queries with the content you already have. 
That's because, unlike other AI-based chatbots that take days to gather, understand, and learn from customer feedback, Cohere Answers lets you use the existing help center content. 
This solves one of the biggest drawbacks of an AI-based chatbot, which is the time to build and set it up. With Answers, you can deploy a bot to your website in hours and not days.
The chatbot also helps you and your team get rid of repetitive tickets and automates the whole answering process. This way, you can increase your customer support team's productivity.
What's more, the platform learns from your knowledge base and even tells you what's missing.
By using Cohere Answers, you can:
Reduce your cost per interaction by 43%

1.6X your agent productivity

Increase self-served tickets by 28%
With Answers, you can get actionable insights at your fingertips. You can analyze and improve support metrics, identify the top questions asked, deep dive into individual support experiences, etc.
Wrapping Up
Chatbots help you eliminate labor work, save you money, and automate repetitive tasks. 
The future for enterprise chatbots looks bright. Soon conversational AI chatbots could be used for payments, and social media conversations and will become an integral part of our daily lives. 
If your enterprise still hires customer service agents to resolve customer queries, it's better to stop. 
You can set up a chatbot on multiple channels to answer questions and use agents' experiences to educate the chatbot about your target audience.
Want to try how a conversation AI chatbot could help your enterprise? Take a look at Cohere Answers now.
Making customers happy is hard. Let's make it easier.
See how Cohere can help your CX and sales teams engage with customers faster and more effectively.